Philippine forces have claimed to have won back 80% of the led held by rebels after 11 days of conflict. The conflict began with a stand off between the army and fighter from the Moro National Liberation Front (MNLF) a separatist group that wants an independent state for Moro people. The MNLF opposed a peace deal being struck with a rival rebel faction the Moro Islamic Liberation Front (MILF) who broke away from the MNLF because they felt they had lost a Muslim spiritual focus. The southern city of Zamboanga became a battle group between the MNLF and state forces. 

Riots have broken out in Greek cities of Athens and Thessaloniki following public sector strikes. Anti-fascism protests and anarchist groups joined the protests calling for the banning of far-right group the Golden Dawn. The Golden Dawn was a lot of support within the Greek police force.
This follows on from the murder of anti-racist rapper Killah P (Pavlos Fyssas) who was stabbed to death on Tuesday by an alleged member of the Golden Dawn.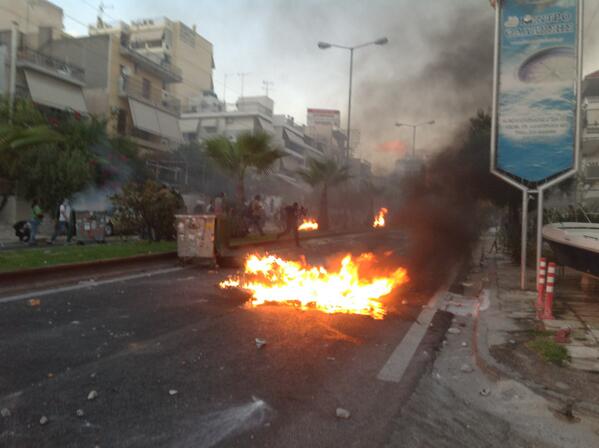 A well known Sri Lankan journalist has left Sri Lanka after her family were threatened at knifepoint. Mandana Ismail Abeywickrema is the associate editor of the Sunday Leader newspaper and led a trade union for journalists. She has received death threats in the past. Sri Lanka's reputation for intimidating journalists has only gotten worse in recent months and we have covered some of those cases here before.
US poverty rate remains at 15%. That's 46.5 million people and 16.1 million of them are children. Which is 1 in 3. 1 in 3 of America's poor are children.
Jordan is constructing a new Syrian refugee camp which will be able to hold more than 100,000 people. More than half a million people have crossed into Jordan since the conflict began.